St John's Artwork
'Hryre' (the word for ruin in Old English) is a major new, permanent public artwork created to explore the medieval heritage of Chester and of St John's Church in particular. Sited at the medieval ruins at the East end of St John's Church, Chester, it draws on the research of the 'Mapping Medieval Chester' project, and is part of the 'Discover Medieval Chester' project which aims to share that research with wider audiences.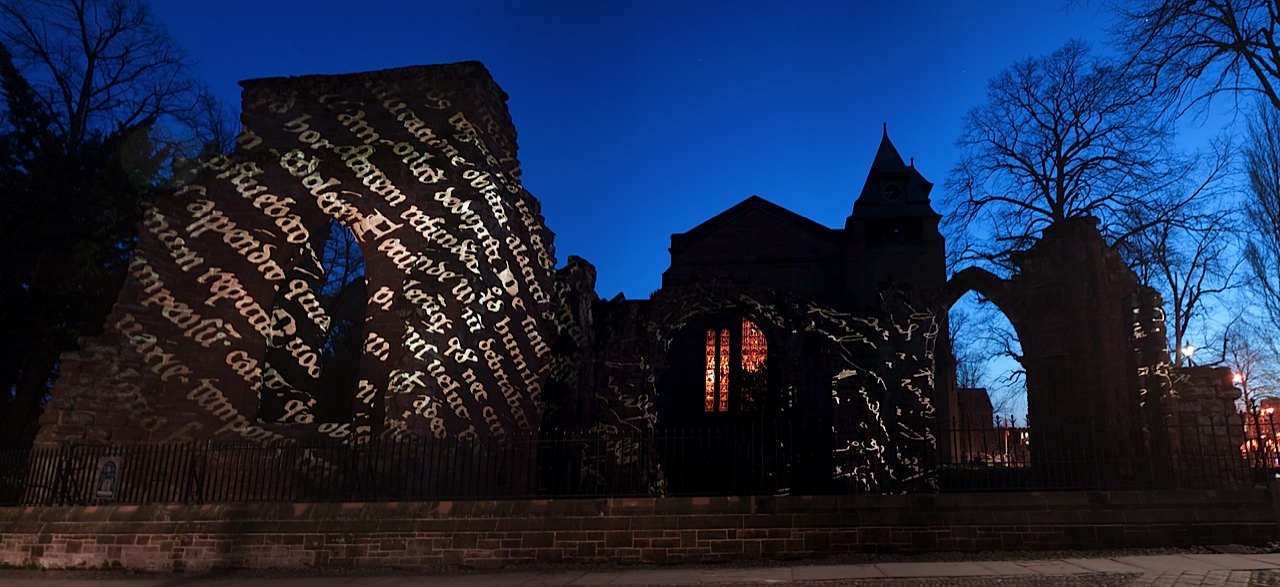 'Hryre' is a light-based artwork in which fragments of medieval texts from Chester in English, Latin and Welsh are projected across the medieval ruins. The projections call attention to the multiple identities, languages and perspectives in medieval Chester – sometimes intersecting, sometimes colliding – and also invites viewers to think about subjects such as the ruin and memory, decay and endurance.
Artist Nayan Kulkarni was commissioned to produce the artwork by Cheshire West & Chester Council's Arts & Festivals team in partnership with Museum Service, Street Lighting and Chester Renaissance. The artwork is funded by Cheshire West & Chester Council, Chester Renaissance and the AHRC.
A temporary version of the artwork was trialled from October 2011 to March 2012. Now, the full permanent version of the artwork is in place.
Nayan worked closely with Professor Catherine Clarke, leader of the original 'Mapping Medieval Chester' research and the 'Discover Medieval Chester' project, to develop content for the artwork. They also explored and refined ideas in collaboration with local people through workshops and discussion groups.
These activities included:
A series of workshops in 2011 open to any interested local people, where possible texts for inclusion in the artwork were discussed and explored
Workshops at Newton Primary School, giving pupils the opportunity to create text projections for their school building
A photography competition with a prize for the best picture of the initial temporary version of the artwork
Engagement with local audiences via a text message feedback service during the initial temporary artwork period
The artwork won a commended award in the Chester Civic Trust New Year Honours, 2012, for its positive contribution to the urban landscape.