Creative Responses
As part of the Discover Medieval Chester project, Sue Hughes and a team from the Grosvenor Museum have been working with local writers in and around Chester. Some recent activities have involved the 'Write Stuff' W.E.A. Creative Writers group – also known as the 'Hoole-igans', as that's where they're based. Through their work with the Museum, the group have been reflecting on Chester as a border city and the connections between medieval objects and texts and their own experiences today.
The Welsh-language poet Aled Lewis Evans has also worked with the writing group - as well as children in local schools - to help inspire and develop new responses to the Museum's medieval collections and the medieval texts from Chester. Aled has also written some new poems of his own, inspired by the medieval literature.
In these pages you can read the poems produced by the W.E.A. Creative Writers Group and Aled Lewis Evans, and watch some of the poets reading their work on film.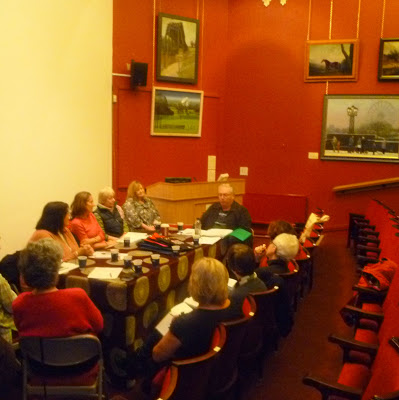 (Aled Evans and the Creative Writers at the Grosvenor Museum)